In exactly 3 days (November 26, 2015), join #DeltaGRiC and ERPScan at the Michelangelo Hotel, Sandton, Johannesburg to learn best practices on protecting #SAP landscapes from external/insider attacks.
Join Merlin Knott (Director – Business Analytics, SAP Africa), Alexander Polyakov (CTO ERPScan), Tunde Ogunkoya (Consulting Partner, DeltaGRiC Consulting) and Taran Kambo (VP, ERPScan) as they unravel the mysteries of mitigating cyber security risks and compliance violations in your SAP landscape using real life simulations.
We will be speaking on the 5 step to a proven Vulnerability Management on Enterprise Applications; A journey to Maturity. Also, we will be talking about attacks like the United States Investigation Services (USIS) cyber breach  documented in May 2015, which forensics evidence traced its roots to an SAP vulnerability; lessons learnt and what SAP run organizations can do to prevent being the next victim.
There will also be a business card draw for a Free Vulnerability Assessment* for the selected SAP customer.
Agenda: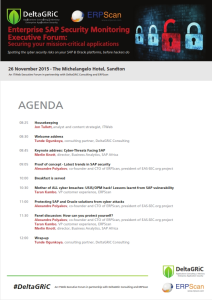 About DeltaGRiC:
DeltaGRiC Consulting is the ONLY SAP Africa Ecosystem consultancy focused solely on helping SAP run & Oracle-PeopleSoft run organizations mitigate cyber-security risks and compliance violations using the Industry's multi-award winning and most credible solution – ERPScan Monitoring Suite. DeltaGRiC's niche proposition is SAP/Oracle Vulnerability Assessment, Penetration Testing and SAP Forensics and Enterprise Threat detection on the Application layer.
*One instance only
Are you responsible for the overall integrity of your SAP landscape? If yes: you can still register for the event before November 26, 2015 on http://goo.gl/QHjDyH